Apakah itu Nurich Lacto-Lite?
Lacto-Lite menggabungkan serbuk yogurt dan dengan kultur hidup, insulin dan ramuan-ramuan lain. Inulin adalah prebiotik. Ia membantu menambahkan bifidobakteria dalam usus dan membantu memastikan keadaan usus yang baik.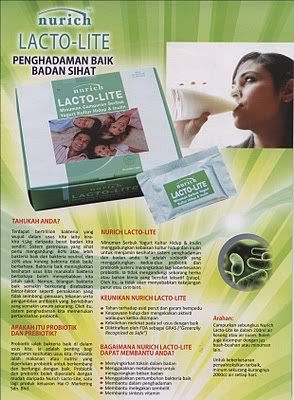 Inulin, serbuk yogurt dengan kultur hidup, serbuk konjak, oligo-fruktosa, maltodekstrin, serbuk vanila dan silikon dioksida dan kondisionaer makanan (agen antipengerakan) yang dibenarkan.

Bagaimana hendak minum Lacto-Lite?
Campur 1 bungkus Lactolite ke dalam 200ml air, kacau and minum terus. Elakkan penggunaan air panas. Jangan lupa minum 800ml air untuk lihat kesan lebih ketara. Penggunaan Lacto-Lite nie untuk proses detoxification, so, it's really important for us to drink lots and lots of plain water...:)
Ada

25 sachets dalam satu kotak

. Satu kotak hanya

RM158.00.

Halal ker tak?
Dear, takkan ler yong nak jual produk haram kot. Memang terang-terang produk nie

HALAL

dear...:) So, jangan risau yer...:)
Lacto-Lite nie sesuai untuk siapa yer?
Sesuai untuk semua jenis kaum manusia kat atas muka bumi. Seriously. Especially, yang ader masalah susah sangat nak buang air besar. Means, kalau dapat membuang pon, macam tak lawas, and tak puas. Lacto-Lite nie memang sangat sesuai untuk breastfeeding mothers, sebab ramuan nyer takkan sesekali mengurangkan susu badan. Yes, a few of my customers have tried dan takder effect kat susu badan.
Lacto-Lite nie akan membersihkan usus kiter, so, after minum nie, akan kerap membuang air besar. Tapi, takder la sampai sakit perut. Lepas tue badan akan terasa lebih ringan...:) Kalau pengambilan Lacto-Lite secara consistent, lamer-lamer not only usus kiter bersih, tapi, kulit muker pon jadik gebus dan mulus, sebab toksin dah takder dalam badan kiter...:)
Bagaimana Lacto-Lite dapat membantu anda?
* Menyingkirkan toksin badan
* Menggalakkan metabolism
* Mengurangkan beban badan
* Menggalakkan pertumbuhan bakteria baik
* Membantu dalam penghadaman
* Membantu melegakan sembelit
* Membantu sintesis vitamin
Percaya atau tidak, our leader yang terulung,

CDM Kak Ana berjaya mengurangkan berat badan from 98kg hingga 55kg dengan minum Lacto-Lite dan pemakaian Premium Beautiful secara consistent.

So, Lacto-Lite nie memang sangat sesuai for those yang ader weight issue and memang akan melengkapkan Premium Beautiful dengan lebih sempurna...:)
Jangan takut untuk minum Lacto-Lite nie yer sebab, Lacto-Lite langsung tak mengandungi herba atau kimia yg bersifat Laksatif (julap). So, takkan buat kiter sakit perut atau cirit birit...:)
So, aper lagi you all? Sesiapa yang berbadan besar, gempal, weight issue is bukan satu issue lagi. This is your chance nak tampil cantik dan sihat dengan lebih berkeyakinan...:)
For more info, do call me at :-
mobile:
email: alinacshoppe@gmail.com