sebelum naik cruise. kena la beratur dulu
Sedikit info tentang Huangpu River ni yong dapat dari Google
Huangpu River
, a symbol of Shanghai, originates in Dianshan Lake and empties into the Yangtze River at Wusongkou (mouth of Wusong River). It is 114 kilometers (71miles) long and 400 meters (0.25 miles) wide. It is ice-free year round. The river divides Shanghai into east and west. It is a silent eyewitness to Shanghai's history and its development.
Scenery along the river
A spectacular sight is that the two suspension bridges, Nanpu Bridge and Yangpu Bridge, appear to arch over the
Oriental Pearl TV Tower
, resembling 'Two dragons playing with a ball'.
The west bank (Puxi) of the Huangpu River is the cultural, residential and entertainment center of Shanghai. The Bund, Monument to the People's Heroes, Waibaidu Bridge and the oldest park in Shanghai - Huangpu Park, are located on the west bank. In addition, many historical buildings left over from Shanghai's colonial days have been preserved.
The east bank of the river (Pudong) is the newer district of Shanghai and its financial and commercial hub. Steel and glass structures are abundant here. The Oriental Pearl TV Tower, Jin Mao Tower, skyscraper hotels, offices and malls of the Lujiazui Financial Zone are located on this side of the river.
Ships from all over the world dot the river. The busy wharfs and the 'three-layer waters' (or three-color waters) at Wusongkou are also within sight. The 'three-layer waters' is formed by the convergence of Huangpu River (gray white), Yangtze River (yellow) and the East Sea (green) during high tide.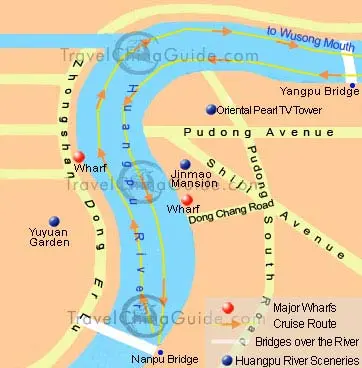 When the sun sets, the river is veiled in the glittery neon lights on its banks. Cruising on the river in the evening, visitors can experience its silence and beauty under the moonlight.
Cruise Information
Cruising on the Huangpu River has become a must for most visitors to Shanghai. Cruise ships vary in size, decoration and amenities, with the most luxurious offering air conditioning, conference room, banquet hall, bar and television. Get information of the
Cruise Ships
.
Ships depart from the
Bund
(Zhongshan Road), sail to Huangpu Bridge in the south, turn and head north towards Wusongkou, and return to the Bund.
cantik kan pemandangan di sini? waktu malam sangat cantik dengan cahaya-cahaya dari bangunan di sekitar sungai ini..

So if you all ke Shanghai, jangan lupa naik cruise ya. Totally fun and remembering.
sekian untuk aktiviti hari kedua. will update more about DAY 3 in Shanghai :)
thanks for reading